Ultimate Rebaid Review! (Save $100's)
Disclosure: This post may contain affiliate links and if you choose to sign up or purchase a product/service through our links we may receive a commission at no cost to you. Please read our full privacy policy for more information.
Here in this Rebaid review, I will go over why you should definitely be using this service to save money easily!
If you shop on Amazon then you definitely need to use this free service!
I've already saved $100's with this free tool and I'll show you how.
So let's get straight into this post to see what this platform is all about…
Rebaid Review Overview

If you shop at Amazon then I highly recommend that you use Rebaid to save a lot of money!
We'll go into exactly what Rebaid is and exactly how it works soon but first let's go a little bit more in-depth about them as a company.
As I said earlier, Rebaid is a fairly new company, it was founded in 2019 but they are doing very well.
In this time they have earned 4.7 out of 5 stars on TrustPilot which is really good!
Rebaid is a free service that allows you to save $100's or even $1,000's on products from Amazon. You even get products for absolutely free.
Now let's dig deeper into this review and go over what it really is and how it works…
What Is Rebaid?
Rebaid is a free money-saving service that allows you to get rebates for many different products on Amazon!
If you don't know what a rebate is here's the basic overview…
A rebate is when a company gives you money for buying its product. Awesome right?
For example, let's say a product is $20 and the company is offering a $15 rebate.
You will have to spend $20 initially to get the product but the company will give you $15 back for purchasing their product.
This means that you only spent $5 on the product!
So how does Rebaid play into this?
Well, businesses list their rebate offers for products they list on Amazon so they can acquire more customers.
For example, here's an iPhone case that will only cost $4.47 after the rebate!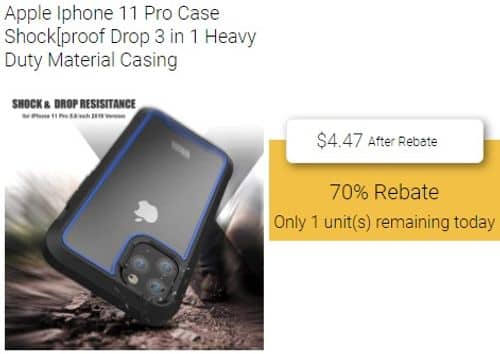 Click on the product and you'll see a description of the product which is great but one of the most important options here is the Preview On Amazon button.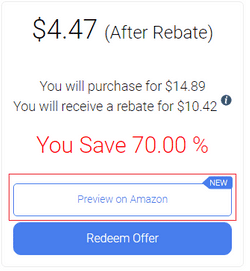 The Amazon preview will show you details about the product and reviews about the product on Amazon.
On Amazon, the product is listed for the full price of $14.99 but with this awesome platform, you can get the same product for $4.47 after the rebate.
This is the power of Rebaid and why I highly recommend using it to save money easily!
Now let's dig deeper so you can see exactly how it works…
How Do You Use Rebaid?

First of all, you have to sign up for a free Rebaid account.
When you click the sign-up button you will get two options which are to become a seller or a shopper. Select sign up as a shopper!
After you sign up you'll be at your account dashboard where you'll see your pending rebates, last rebate issued, lifetime rebates, and pending confirmations.

My stats show you that Rebaid actually works to save you money!
Then as you scroll down the page you'll see all the different products that offer rebates when purchased on Amazon.
You'll quickly begin to see that these products only have limited daily amounts and some even are sold out for the day.
If the item is sold out, just check back another day and it will most likely be available.
Now let's go through the process of purchasing an item on Amazon and saving money with Rebaid…
Saving Money With Rebaid
So, as you browse through Rebaid let's say you found an Amazon product that catches your eye.
How exactly do you purchase this product and get a rebate to save money?
First, click on the product where you'll get more details about the product and the amount of savings you will get. Let's use the iPhone case for example: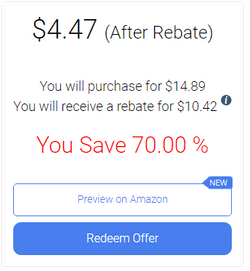 In this case, you'll save $10.42 by just using Rebaid!
Okay now let's say you want to purchase the product, how do you go about getting your rebate?
Just click on the option to Redeem the offer to start the process and you'll see the first screen where you'll have to choose your payment method.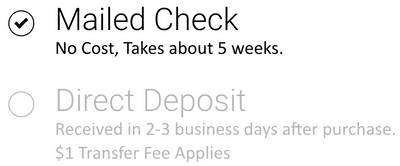 Note that when you are new to Rebaid you only have the option to get paid via a mailed check and the rebate will be processed in about 5 weeks.
Once you completed 2 rebate offers and have been a member for at least 5 weeks you will have the option to choose direct deposit as a payment method.
For direct deposit, the rebate will be processed in 2 – 3 days but you will have to pay a $1 fee for choosing this method.
So, just choose the method that works best for you.
Then just purchase the product at full price and once you get your Amazon confirmation code just head back to the Rebaid Dashboard and you'll see your pending confirmation with the option to enter the Amazon order number.
For example, here is an Amazon product that is pending: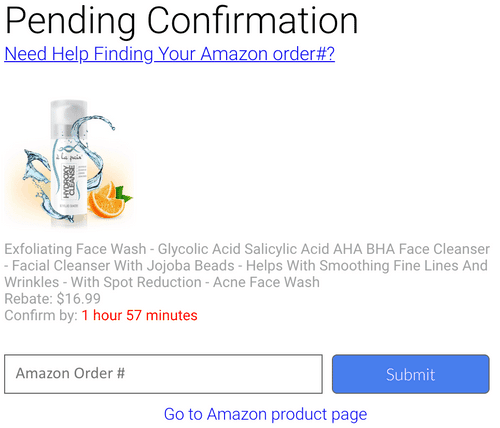 Once you order the product on Amazon you'll get an email with the order number, just copy and paste that order number into the pending offer and you're all set!
With Rebaid you can save a lot of money easily for purchasing products that you were already looking to buy anyway!

Plus, you will also find some offers where you can get a rebate of 100% which means you can get the product for completely free.
Now that you know how Rebaid works and how to save money using this awesome platform, let me show you a way you can make money using this awesome service…
Rebaid Referral Program
If you signed up already I'm pretty sure you saw the section for the referral program, however, if you didn't sign up yet, what are you waiting for?! Sign up for Rebaid here!
Once you are logged into your account and are at the main dashboard you will see the option for Referral Program as shown below:

You will see your referral link which is a unique link that you need to use to invite friends and family to Rebaid.
Here is an example of what the link would look like:
Just copy this link and start sharing it with people and you'll get paid!
How much will you get paid exactly?
You will get $10 for every person you invite to Rebaid with a limit of 10 people per month. This means you can earn $1,000 every month just from referring people!
But there are some rules…
The person you refer must sign up using your referral link and they must complete 1 offer before you get your referral bonus.
Once you get your referral bonus it takes 38 days to process and once processed you will be sent a check to your address.
Rebaid is an awesome platform even if they didn't have their referral program but having the referral program just makes it so much better so I recommend signing up now!
Now let's dig into the pros and cons of Rebaid…
Pros and Cons of Rebaid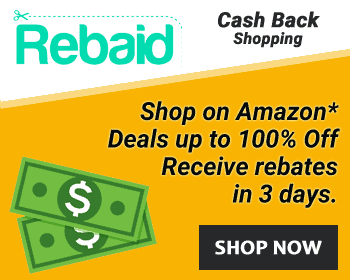 Even though I believe this platform works for everyone due to how easy it is to use and being free to use there might be some people who rather use a different product.
If you are still on the fence about using this service then check out these pros and cons of Rebaid:
Pros
Absolutely free to use
Easy to use website
Large savings compared to cashback platforms
Easy & Simple steps to claim a rebate
Get paid cash
You can get some products for free
Cons
For mailed checks, the rebate will be processed in 5 weeks
You have to unlock the direct deposit option and there is a $1 fee for this option
Products are not categorized and there is no search function
No app for iOS or Android
Since they are new and they only work with Amazon at this time and only offer rebates on a few items.
I highly recommend signing up to Rebaid and checking their products from time to time to see if there is any product you need or want that you can get massive savings on.

Then also sign up for a cashback platform like Rakuten or Dosh to save on much more products and brands!

This way you are making sure you are always saving money!
Now, let's get into some frequently asked questions.
Rebaid FAQ's

Here are some frequently asked questions about Rebaid:
Where Can I Sign Up For Rebaid?
You sign up for a free Rebaid account here or by going to Rebaid.com.
Are There Limits To How Many Products I Can Redeem?
There are no limits on how many different products you can redeem on Rebaid but you are limited to one of the same products per day on Rebaid.
Do I Still Get Paid If I Cancel Or Return The Amazon Purchase?
No, Rebaid will cancel your rebate if you cancel the order or return the product on Amazon.
Which Countries Do Rebaid Work In?
As of this time, Rebaid only works within the U.S.A.
Am I Allowed To Have Multiple Rebaid Accounts?
No, you can't have multiple Rebaid accounts. Each member in your household can have a Rebaid account as long as it is associated with a unique Amazon account.
How Do I Get Paid On Rebaid?
Once your rebate is processed you have two payment options. One is to receive a physical check which will take 5 – 6 weeks to arrive and the other is the direct deposit option which has a $1 processing fee.
Is There A Membership Fee To Use Rebaid?
Rebaid is completely free to use for shoppers to use. However, if you are a seller then you will have to pay certain fees to list your product on Rebaid.
Conclusion
We went over everything you need to know about being a shopper on Rebaid and you now know that you can save $100's and maybe even $1,000's from this one free platform!
If you shop at Amazon then I highly recommend signing up for a free Rebaid account and start saving money today!

You can also get some items for absolutely free so why not?!
Plus, you can also make some extra money with their referral program. You can make up to $12,000 a year from Rebaid's referral program alone!
If you are looking for other awesome ways to save money check out my posts on Paribus vs. Earny and Apps For Free Food!
Do you have anything else to add to this review? Have you used this service before? Let me know in the comments below!
Are you ready to take control of your money? Check out these awesome
money resources
which will help you to make and save $1,000's!
Disclosure: This post contains affiliate links which means I will earn a commission if you choose to click and make a purchase. While there is no additional cost to you, it will give us a pretty penny. Thanks For Your Support!