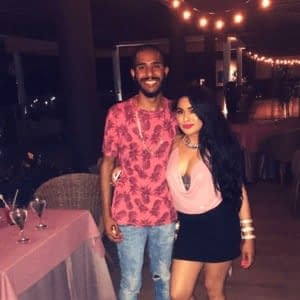 Hello and Welcome to Savebly!
My name is Michael and I am the founder of Savebly.
As you may already know, I am the one cheesing way too hard, wearing a shirt full of pineapples.
Yup, that's me.
The beautiful girl next to me is my girlfriend (and best friend) whom I love very much!
So Why Did I Start Savebly?
I graduated college in 2016 with a degree in Information Technology (if you have any tech questions I got you!). I got into a great company that paid a reasonable amount, but most of it vanished as soon as I got paid!
I mean it's seriously crazy how this works! Your base salary is nowhere near your take-home pay!
And I forgot to mention that I live in NYC where everything costs a sh*t ton!
So something had to change.
I started to read a lot of personal finance books and blogs and I started to take control of my money.
By changing my mindset on money, I paid off $24,000 in student loan debt in less than two years without making a six-figure salary!
The important thing is that YOU can do this too.
Enough about me, I want to talk about why you should read Savebly.
Why Savebly?
I know there are thousands of personal finance blogs out there that you can read so why should you read Savebly? Your time is valuable so why should you listen to what I have to say? You're probably thinking, what is the purpose of Savebly?
Well, here it is, no B.S…
Savebly exists because I believe that we can ALL live a freer life. A life that is full of choices, not one tied down to a paycheck from a job you hate. What I want for you is a life that allows you to focus on what makes YOU HAPPY, not one constricted due to financial limitations.
FREEDOM, not money, is why Savebly exists.
Those who join the Savebly family can live a freer life by taking control of their money to buy back their time (AKA: Freedom) and focus on what truly makes them happy. YOU can do the same!
I stand here today to tell you that you can achieve freedom by making simple financial changes in your life!
Of course, you should be grateful for what you have but I am here to tell you that YOU CAN have that dream job, YOU CAN get that dream house, YOU CAN travel the world, YOU CAN spend more time with your kids, YOU CAN start that business you always wanted, YOU CAN help those in need, YOU CAN have that security and peace of mind, YOU CAN live comfortably, etc…
To make it simple…
You can be who You want to be and You can do whatever You want to do! Never deprive yourself of happiness.
Most importantly, money will give you the power to find your purpose so you can live a fulfilled life. You just have to work for it and I will show you how.
If you are a person who wants total control of every aspect of your life then this is the place to be, join the Savebly family NOW using the sign-up form below and begin your journey to FREEDOM!
I recommend you start by checking out my favorite money resources which will help you get the life you deserve!
Talk to you soon.
– Michael
Spread Positivity, Happiness, and Love
Mentions
I am honored that Savebly continues to be recognized & mentioned by leading sites in various industries such as:
Latest Posts
Read our latest money tips and tricks below.