47 Best Frugal Christmas Gifts
Disclosure: This post may contain affiliate links and if you choose to sign up or purchase a product/service through our links we may receive a commission at no cost to you. Please read our full privacy policy for more information.
You shouldn't go into debt this Christmas; this is why you should check out these frugal Christmas gifts!
The Holiday season brings the need to track down gifts for friends, family, co-workers, and loved ones.
The pressure to break the budget can be a troublesome worry, so you should find awesome gifts that won't leave you broke!
Most of the gifts below are far below the $50 price point and fall more in the $10 – $30 range.
So if you're looking for stocking stuffers or smaller office gifts, these might inspire a great cost-effective solution.
This list is quite broad, from books to travel accessories, electronics and fitness, and everything in between.
The real goal isn't to keep it frugal but to deliver something of value without breaking your budget.
Let's get straight into these frugal Christmas gifts…
Give The Gift Of Knowledge This Christmas
Books, whether physical or digital, are an excellent option for almost any.
They won't break the budget, making them one of the best frugal Christmas gifts!
Below are suggestions from my top personal finance and personal development books and a handful of others I've enjoyed reading.
Most of these books fall in the $10 – $20 range.
The Simple Path To Wealth
This book by the great JL Collins highlights the simple path to building wealth. The book touches on fundamental pillars of personal finance but focuses mainly on investing and reaching for financial independence.
I Will Teach You To Be Rich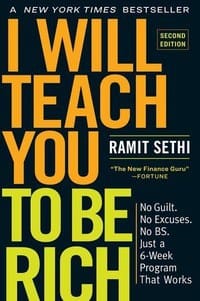 A straight-to-the-point, matter-of-fact book on personal finance by Ramit Sethi.
This book is based on the four foundations of personal finance: banking, saving, budgeting, and investing.
You will also get ideas on wealth-building; it's a great gift to give someone.
Tribe of Mentors
This book is fascinating and very informative! It is written by Tim Ferriss, whom you've probably heard of before.
Tribe of Mentors consists of interviews with successful people who share their ideas, habits, advice, etc…
This is a great gift due to the amount of knowledge it contains!
You Are A Badass: How to Stop Doubting Your Greatness and Start Living an Awesome Life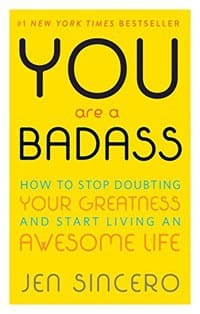 This book is a really awesome book that will make a great gift!
It's all about becoming a better you through habits, time management, perseverance, etc…
Everyone wants to be a better version of themselves which makes this an excellent gift for anyone!
Principles: Life and Work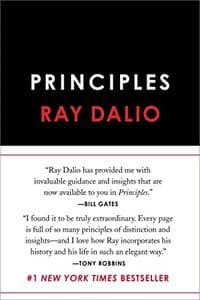 This book is written by one of the world's most successful investors, Ray Dalio, and it's full of helpful information.
He shares some principles he's learned over the years of running a company and his personal life.
With these principles, you will be on a better path to achieving your goals, no matter what they will be, and that's why this book is a great gift!
The Year of Less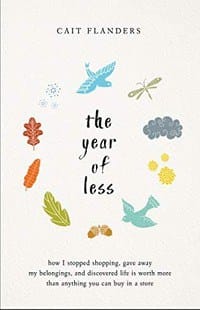 A great book that fits with the theme of frugal Christmas gifts is The Year of Less.
This book is all about minimalism and living on less but at the same time being happier.
After reading this book, you will find that having more things doesn't make you happier. In fact, you might even be happier with less.
I know it might be a strange gift for Christmas, but it's actually a great gift because it will show people that "things" are not the most essential things in life.
The Power of Habit
The title of this book pretty much says it all; habits can make or break a person.
This book will teach you how to develop good habits to reach your goals.
It's an excellent book for those looking to achieve a goal!
Frugal Gifts For Those Who Love To Cook
If you have friends or family members that love to cook, then there are some great and inexpensive gifts that you can get them/
Here are a few different options that might fit the giftee on your list. Prices on these kitchen and patio gifts range from $15 – $49.
B.B.Q. Grill Tool Set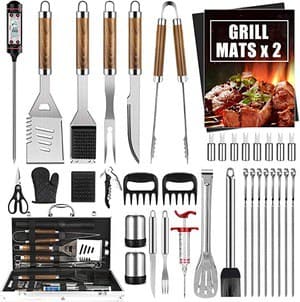 Every grill master needs a set of grilling accessories to take care of their B.B.Q. and the food being cooked. This set includes almost anything a traditional B.B.Q. might require.
This Cifaisi B.B.Q. grill set is perfect for any grill master out there! It has all the pieces needed, and you can pick it up from Amazon for a great price.
Dash Rapid Electric Egg Cooker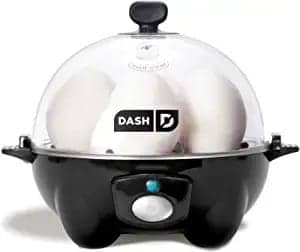 Hard-boiled eggs, poached eggs, scrambled eggs, or omelets, this cooker can do it all. Make the breakfast lover in your life happy with this simple, affordable solution.
This Dash egg cooker is incredible and so easy to use! You can grab it from Amazon right now.
R.O.C.K.S. Whiskey Stones Gift Set
This set of 6 reusable whiskey stones and two whiskey glasses is a great gift for the whiskey and cocktail drinker. These stones are fast-cooling stainless steel with rounded edges to ensure no scratching on glasses. Easy, classy, and functional!
It's the perfect gift for any whiskey lover and can be easily ordered from Amazon.
Benicci Hand-Crafted Moscow Mule Copper Mugs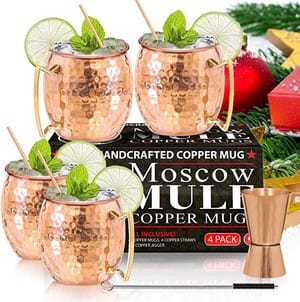 Continuing the entertainment and cocktail theme, this 4 Moscow Mule Copper Mugs set is an excellent addition to any bar set. Flashy, classy, and unique. The kit includes four copper straws and a jigger measuring cup.
It's an elegant set that will spice up any dinner! Pick it up from Amazon and make someone really happy.
Funny Apron
Every great chef needs an awesome apron, and a really great and frugal gift idea is a funny apron!
This apron on Amazon is super affordable and is the perfect gift for those who love to cook.
There are many other funny aprons on Amazon if this one doesn't work, browse around, and you'll find one that is perfect.
Charcuterie Board Set
This charcuterie board set is the perfect gift for those who love to make their dinners, lunches, snacks, etc… look good.
It's solid wood and includes four different cheese knives and four bowls. It's super high quality and makes a great addition to any meal! Check it out on Amazon.
Cheap Gifts For Coffee Lovers
Coffee continues to become much more than just a hot drink from a barista.
The at-home experience and unique nuances of making the perfect cup of joe provide great gift-giving opportunities.
Here are four options for the at-home brewer on your Holiday gift list. These gifts range from $25 – $50.
JavaPresse Manual Coffee Grinder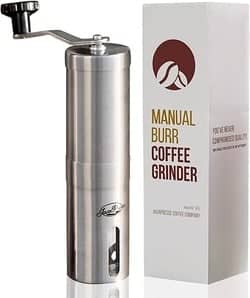 Give the coffee lover on your list something special from JavaPress.
This manual coffee grinder is an excellent option for that coffee drinker in your life. It's super easy to use and clean, and it's selling for a great price on Amazon.
Coffee Gator Pour Over Brewer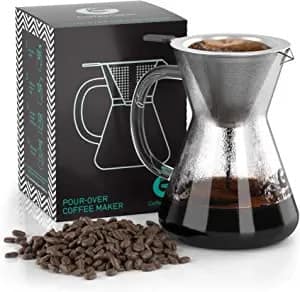 Pour-over brewing continues to gain in popularity as the benefits of taste and quality garner attention. This 14oz. pour over brewer is the perfect paperless solution and one of the most reviewed and ordered products of its kind.
Check it out on Amazon.
Coffee Gator French Press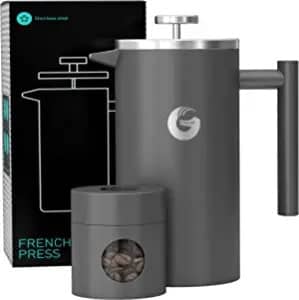 Another solution for the at-home brewer is a great French Press. This extremely popular one from Coffee Gator is stainless steel and houses up to 34oz.
It's a perfect gift for coffee lovers; you can easily pick it up from Amazon.
Keurig K-Mini Coffee Maker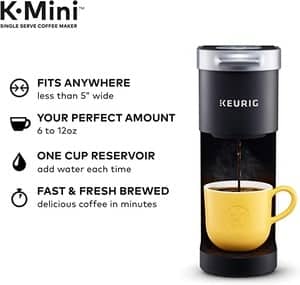 For that coffee lover who doesn't have the time to grind their coffee and brew it, the Keurig mini coffee maker is the perfect gift!
It's pricier than the other coffee gifts, but it's still affordable and will make any coffee maker smile. You can get it from Amazon right now.
Frugal Gifts That Will Make Them Laugh
Some of the best frugal Christmas gifts are those that give people a good laugh!
I know these are some of my favorite and most memorable gifts, and I'm sure this is the same for others as well.
Here are some cheap but really awesome gifts that will make this Christmas super fund!
Passive Aggressive Notepad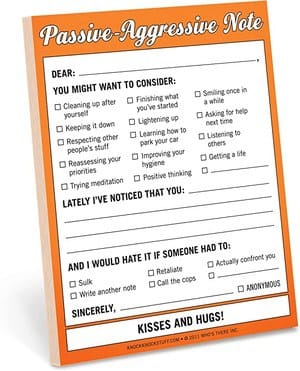 This is a funny gift for those people who you know "need" them!
It's a perfect gift for those who want to express their feelings in a funny way.
It's a really affordable gift that will make everyone laugh! Check it out on Amazon.
Custom Pet Portrait
Have someone in your life that won't stop talking about their pet? Then this is the perfect gift for them!
An artist on Etsy will make a custom portrait for pets and dress them up as royalty.
It's adorable and funny, which makes it a great gift, so definitely check it out!
Who In The Room? Party Game
A great gift to get for friends or family and play with them is this great card party game.
The game has cards with a bunch of wacky "who do you think…" questions, and you all decide which person fits this question the best.
This game will be sure to get some laughs out of everyone and some shock as well! Check it out on Amazon.
Terribly Good Dad Jokes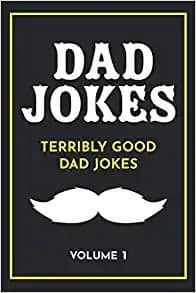 Do you have that person that always says really bad dad jokes that you can't help but laugh at?
Well, this is the perfect gift for them!
This inexpensive but awesome book is full of "terrible" jokes that is perfect for that joker that you know. Check it out on Amazon.
Frugal Gifts For Him
From shaving to subscription boxes, there are some great gift options to get the males on your Christmas list this year.
Practical, unique, or aimed to make their lives easier, the below products and services range from $10 to $45.
These are the best frugal Christmas gifts for him…
Harry's Shaving Set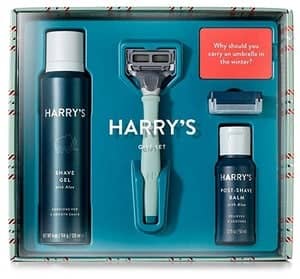 Going to purchase razors at the pharmacy is a pain. Why not give the gift of Harry's to that special someone on your list?
Harry's provides higher quality and lower prices. Their Shaving sets are fantastic and make life so much easier.
They also have facial care products and great shaving accessories. You can get the gift set from Harry's website or on Amazon.
Bespoke Post Accessories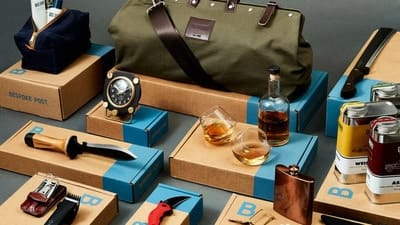 Give the modern man on your list some goodies from Bespoke Post. They have clothes, electronics, toiletries, drinks, coffee, and more.
There are many unique gifts that the man in your life will enjoy; check out their site and find a gift that best suits that special man in your life!
Personalized Pint Glasses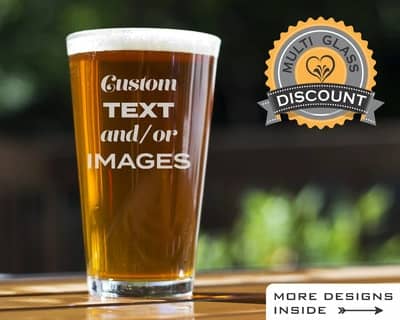 How about some custom beer glasses tailored to their personality? Whether it's a serious or funny slogan or image, a custom pint glass set is an excellent gift with some personalized flair.
You can get these excellent personalized pint glasses from Etsy.
Frugal Health & Wellness Gifts
Taking care of your health and well-being is essential. As a gift giver, you can be the one not only spreading joy this Holiday season but wellness too.
The gifts below range from $20 – $45.
Philips Rechargeable Electric Toothbrush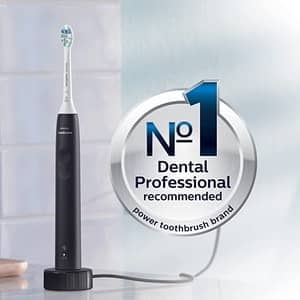 This might seem like a boring gift. However, as a recipient of one of these last year, I can give my full support behind this. My teeth have never been cleaner or felt better (plus, it's easier).
This Philips electric toothbrush has excellent reviews, and you can get it for a really great price from Amazon.
Invincible Fitness Massage Balls Set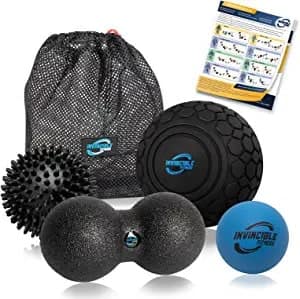 This collection of 4 different sizes and styles of massage balls can do wonders. Whether your gift recipient is an avid runner or spends a lot of time sitting at work, the ability to get a deep tissue massage and take care of their body will have them thanking you.
It's a great gift, and it's super affordable on Amazon.
AmazFit Fitness Tracker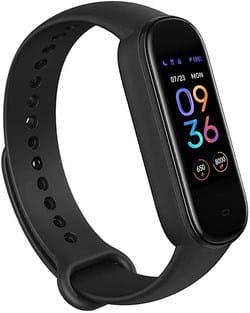 This is an affordable substitute for FitBit. This fitness tracker monitors heart rate, sleep patterns, step count, calories, and more. It's an excellent gift for anyone looking to put their fitness first.
It is also integrated with Alexa to make it even easier to use! Check it out on Amazon.
Resistance Bands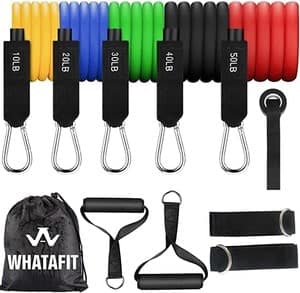 For those people in your life that can't stop working out, why not give them some resistance bands so they can work out at home?
You can find some affordable resistance bands on Amazon that will make a perfect gift for fitness lovers!
Affordable Gifts For Sports Lovers
Chances are, most of us have a sports lover on our Christmas list this Holiday season. From sporting goods to tickets to events, you can be the gift-giving hero with the suggestions below at $20 – $50.
PUTT-A-BOUT Par Three Golf Putting Green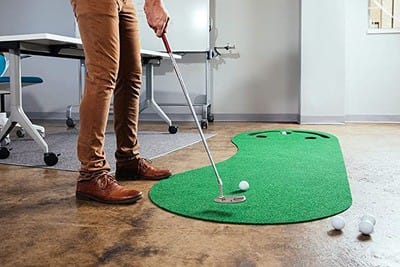 A simple gift you can give is a putt training mat if you have a golfer in the family or around the office.
No golfer will complain about this matt since it will help them perfect their putting game!
It's affordable on Amazon and will make any golfer happy this Christmas.
Dartboard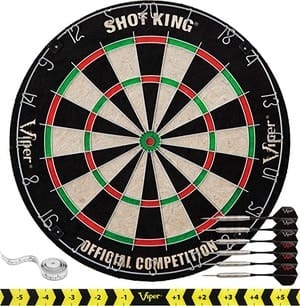 If you have someone who loves to play some games at home, then a dartboard is the perfect gift for them.
Playing darts is a fun activity to do at home and will make a great gift for that sports lover, you know! Check out this dartboard on Amazon.
Ticketmaster

If the sports fan on your list is a fan of attending games or matches live, why not send them there?
From the highest level of pro down to amateur events, chances are Ticketmaster has it.
The Sports Bucket List Coffee Table Book
This Sports Illustrated coffee table book features a unique lifetime list of the 101 most important games, matches, venues, and events worldwide. The perfect addition to any sports lover's entertainment room.
It's super cheap on Amazon and a great gift for any sports lover!
Best Gifts For Those Who Travel
Travel accessories are a great gifting opportunity as the breadth of products provides numerous options. Whether it's a gift to increase comfort or make packing easier, travel gifts apply to almost anyone.
The gifts below range from $15 – $40.
Scratch Off World Map Poster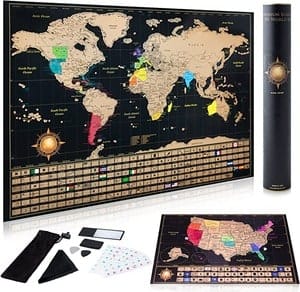 Give the world traveler in your life a lovely memento to hang in their office. The scratch-off map gives inspiration for their next trip and lets them reminisce on their recent adventures. As they visit new countries, they scratch it off the poster.
It's an excellent gift for any travel lover, and you can pick it up on Amazon.
Twist Memory Foam Travel Pillow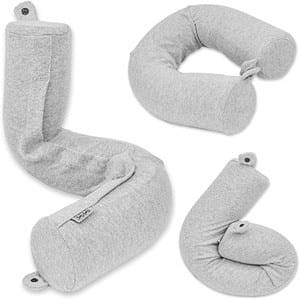 This memory foam is an excellent multi-purpose gift that can help any traveler. The flexible foam makes this much more than just a neck pillow.
It can be molded and twisted to support lower backs, legs, ribs, etc. It's a perfect gift to help out the recipient on those plane, car, or train trips.
Check it out on Amazon.
Hanging Toiletry Bag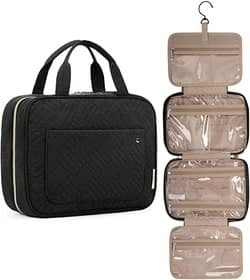 This hanging toiletry bag is an excellent addition to any gift recipient's travel needs—tons of space, versatile storage, and a stylish design.
It's a must-have when traveling from place to place, so definitely check it out on Amazon.
Luggage Packing Cubes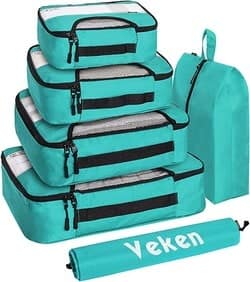 Nothing is worse than packing your luggage to travel around, and that's why these luggage packing cubes make a great gift for any traveler.
It will help anyone stay organized and efficiently pack their luggage for their trip! Check it out on Amazon.
YETI Rambler 20 oz Travel Mug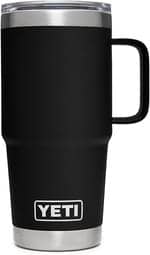 The amazing YETI! The YETI Rambler Tumbler is tough as hell and will keep your drinks hot or cold.
With 18/8 stainless steel construction, double-wall vacuum insulation, and no-sweat design, it's basically the perfect container for any liquid.
It's the perfect gift for any traveler; check it out on Amazon.
Best Gifts For Those Who Love Games
Christmas gifts can be a source of fun and entertainment as well. Why not give a great board or card game as a gift?
The three games below are tailored to adults, so they could be an office gift or a nice one for a friend or family member. The prices fall between $20 – $40.
Cards Against Humanity
The uberly popular, often shocking card game for adults. Depending on who is on your list, this could be the ideal fit. The game is simple. In each round, one player asks a question from a Black Card, and everyone else answers with their funniest White Card.
It's an entertaining game that will make a great frugal Christmas gift! Check it out on Amazon.
Codenames
Codenames is a great game I've had the pleasure of playing several times. It's a social word game where two rival spymasters know the secret identities of 25 agents. Their teammates know the agents only by their codenames.
The teams compete to see who can contact all of their agents first. It's a fantastic game, so I recommend checking it out on Amazon.
What Do You Meme? Party Game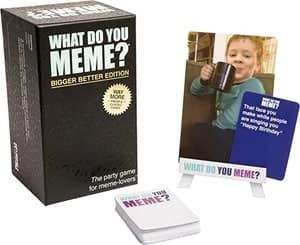 Another adult party game that can be a great gift to a co-worker, friend, or family member. The premise is a basic competition to create the funniest meme.
We all know that one person that loves memes, so this is the perfect frugal Christmas gift for them! Check it out on Amazon.
Best Geekery Frugal Gifts
There's a little geek in all of us. That might be some cool collectible items or perhaps some tech-related items. These geekery gifts fall between $20 – $50.
Thor's Hammer Bottle Opener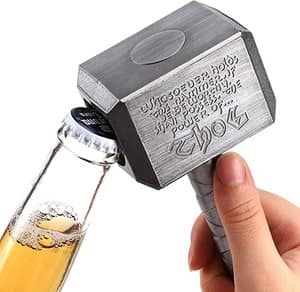 If you have someone in your life who is a huge Marvel fan, they will love this Thor's hammer bottle opener.
It's a really neat gift that any Marvel lover will enjoy, so definitely check it out on Amazon!
Mandalorian waffle maker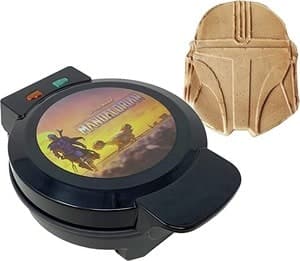 If you have someone that loves Star Wars, then they will love this Mandalorian waffle maker.
It's a cool gift, and who doesn't like waffles?
This Mandalorian waffle maker is affordable and will make an excellent gift for any Star Wars lover!
Groot planter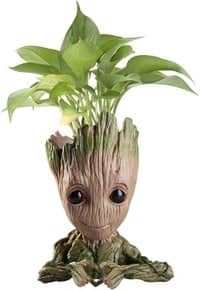 A great gift for a friend, family member, or co-worker that is a Marvel fan is this Groot planter.
It's a really cool gift that you can get on Amazon, and it will add some life to an office space or any room around the house!
Marvel Infinity Gauntlet Lego Set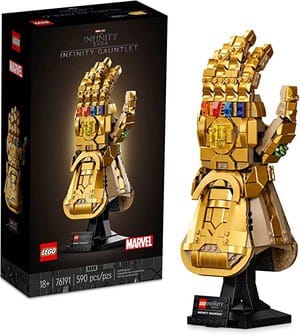 If you're looking to give an extraordinarily unique and attention-grabbing gift to the geek in your life, look no further than this excellent lego set.
This lego set will let anyone build their own infinity gauntlet, it's super fun to make, and the result is just remarkable! It's a bit pricier than other options on this list, but you can still snag it for under $100 on Amazon.
Frugal Electronic Gifts
The two items below are ideal electronic solutions for the right people on your list this Holiday season. Every iPad needs a keyboard, and every home or travel bag needs a Bluetooth speaker.
Two great gift solutions from $25 – $40.
iPad Keyboard & Case
One thing every tablet owner needs is a keyboard and cover/case. The added functionality of having an external keyboard is a huge boost. Plus, the cover/case helps protect it from wear and tear. This is a perfect gift for any iPad owner on your list.
There are many options on Amazon, some on the cheaper side but some higher quality models that are pricier.
Anker SoundCore 2
This is a perfectly affordable Bluetooth speaker. Anker is a trusted tech brand that makes high-quality tech items, so this is a great gift option!
The speaker is portable, waterproof, and has a 24-hour battery life! Check it out on Amazon.
DEERC D20 Mini Drone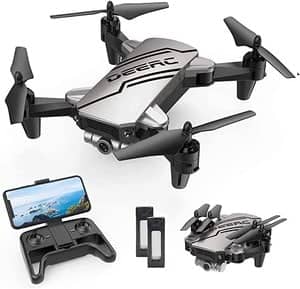 A great frugal gift for that techy person in your life is the DEERC D20 Mini Drone.
This drone is perfect for kids and beginners to learn how to fly a drone and master their skills.
It's a fun, affordable gift, so definitely check it out!
Discounted Gift Cards For Christmas

Lastly, if you don't want to purchase a specific gift for some people on your Christmas list, the always dependable gift card is always the right choice.
Thankfully, there are even places you can purchase discounted gift cards online.
Two of the best sources are:
GiftDeals: Giftdeals is an excellent service to get access to discounted gift cards at up to 35% off. They carry cards from almost every retailer and service imaginable. Sign up for free today!
Gift Card Granny: Gift Card Granny is similar to GiftDeals, with an extensive library of discounted gift cards ranging up to 50% off. From Nike to Best Buy and everything in between. They have daily deals and special offers and are always updating to feature new retailers. It's free and simple to register!
Conclusion
There we have it! Forty-seven great frugal Christmas gifts under $50 and a little something for everyone on your list this Holiday season.
Lots of options and lots of great gifts to make the people on your list happy (hopefully).
If you like this post, then I recommend checking out my posts on 14 Saving Tips For Holiday Shopping and 57 Super Frugal Living Tips You Need To See.
What are your top frugal Christmas gift ideas this Holiday season? Which frugal Christmas gifts have given you the most value over the last few years? Let me know in the comments below!
Are you ready to take control of your money? Check out these awesome
money resources
which will help you to make and save $1,000's!
Disclosure: This post contains affiliate links which means I will earn a commission if you choose to click and make a purchase. While there is no additional cost to you, it will give us a pretty penny. Thanks For Your Support!