Most People Can't Pass This Millennial Money Mindset Quiz! Can You?
Disclosure: This post may contain affiliate links and if you choose to sign up or purchase a product/service through our links we may receive a commission at no cost to you. Please read our full privacy policy for more information.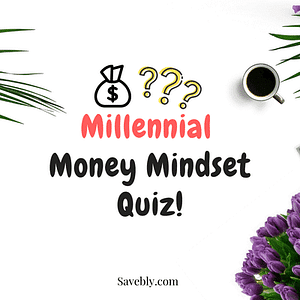 Do you think that Millennials are broke because they spend all of their money on coffee and avocado toast?
If you do then, to put it frankly, you really don't know much about Millennial spending habits!
So…
This is why I created this interesting Millennial money mindset quiz so you can see how much you know about millennial finances.
Millennial Money Mindset Quiz
So, let's get straight to the Millennial money mindset questions! What score can you get?
Give it to me straight, how well did you do on this Millennial money mindset quiz?
Did any of the answers surprise you? If so, drop a comment below and let me know which one surprised you!
Listen, as you can tell from this Millennial money mentality quiz, Millennials are not money experts but they aren't financially irresponsible like they are portrayed to be.
With wage stagnation, massive student loan debt and an increasing cost of living; the future for Millennials is not looking that bright.
It's pretty scary if you look at the facts!
I created this quiz just to have some fun but it's also meant to educate you on the financial struggles Millennials are facing.
Now, of course, I'm not saying that Millennials are the only generation to have financial struggles but the numbers show that it hasn't been this bad in a long time.
I recommend reading this detailed article on Huffington Post detailing the many financial problems Millennials are facing.
Also, check out this awesome infographic I made on Millennial Spending Statistics. Some might surprise you!
Don't forget to share your results for the Millennial money mindset quiz!
Let me know your thoughts on the quiz in the comments below! If you have any money mindset tips to add drop it below.
Lastly, if you are a Millennial, let me know what you think is the biggest financial struggle Millennials face.
Are you ready to take control of your money? Check out these awesome money resources which will help you to make and save $1,000's!